Klik di sini untuk membaca dalam Bahasa.
These are some simple tricks on how you can get that instant glowy skin result every time you wake up.
Do you ever wonder why even after you've made sure to get enough sleep, drink a lot of water and eat right, but for some reason the skin is still dull and dry? So why is that? This is when skincare steps in to help boost your skin with the nutrition that it possibly lacks and ultimately help give you that glowy skin every time you wake up. A great way to achieve this is by incorporating brightening, radiant boosting and hydrating ingredients into your skincare routine. These will truly make a difference.

Here's the perfect Night Glow Remedy routine for you :

Step 1: Apply serum with brightening and radiant boosting ingredients

Serum is a great way to deliver potent ingredients to get you that instant and effective results. Some super well known brightening and radiant boosting ingredients to look for are Niacinamide, Vitamin C, Alpha Arbutin and Silver Vine.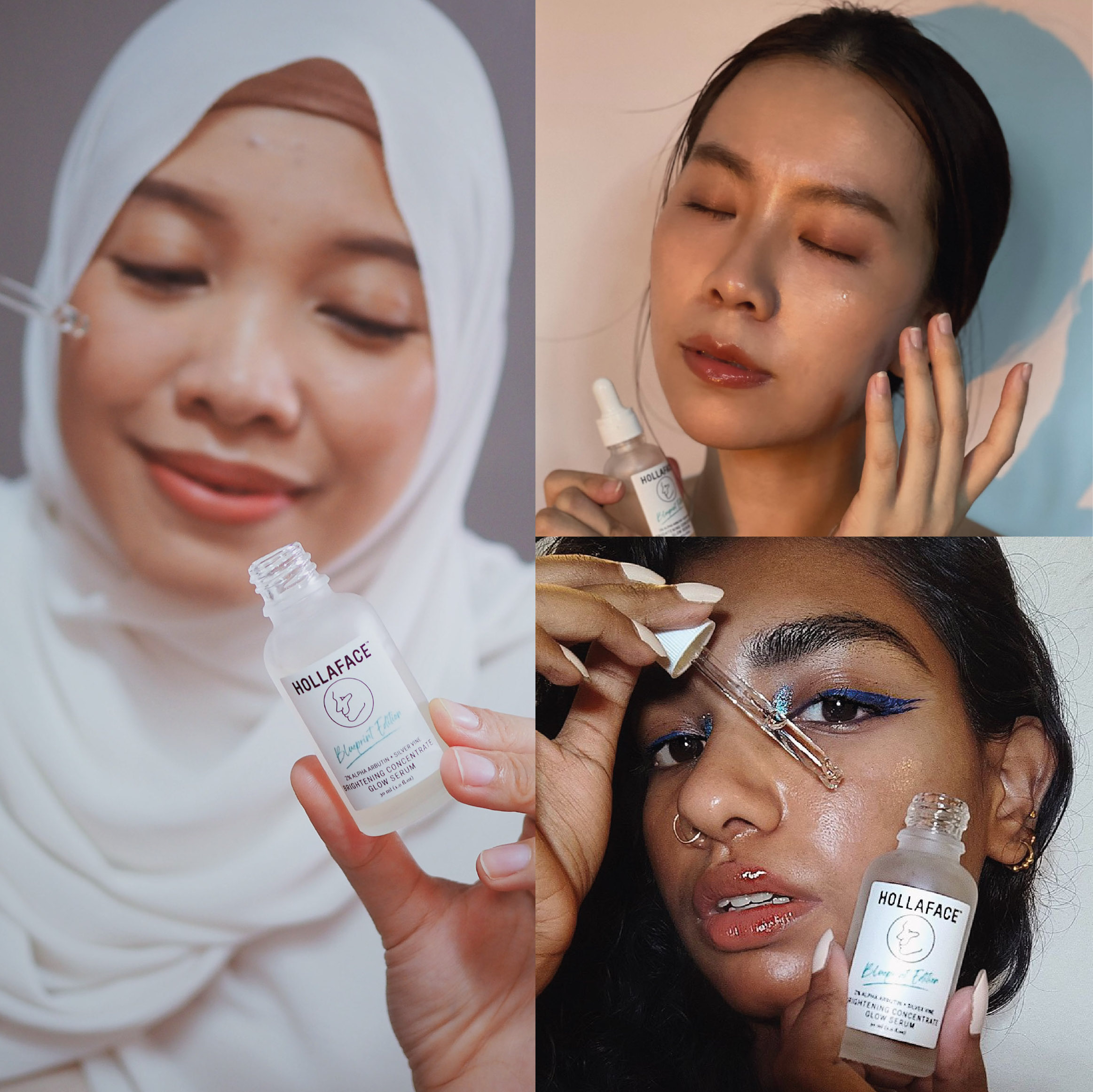 Niacianamide: a water soluble vitamin that helps to reduce hyperpigmentation, reduce dark spots and reduce signs of ageing. Look for 2-5% concentration for best efficacy. Read our 101 guide on Niacinamide here.
Vitamin C: an antioxidant that brightens skin by blocking an enzyme that produces pigment and increase collagen production.
Alpha Arbutin: a brightening antioxidant that evens out skin tone and reduce hyperpigmentation by inhibiting the melanin production. A 2% concentration of Alpha Arbutin is widely studied to deliver optimal results.
Silver Vine: a Japan-originated plant that brighten and enhance skin's translucency through 'protein carbonylation' for more glowy radiant skin.

Recommended Product: Hollaface Brightening Concentrate Glow Serum - contains booster power-duo of 2% Alpha Arbutin and Silver Vine. It also contains Chamomile and Allantoin to help reduce inflammation and soothe irritated skin. This is a great pick for people that are sensitive towards vitamin C.


Step 2: Hydrate and protect with oil-free moisturiser

Moisturising is the last and most important step in making sure the skin gets enough hydration. This is essential in achieving glowy skin as hydration ensures optimal skin function so that it can look its best and eliminate any dullnes and dryness. Look for moisturiser that is rich in antioxidants as well as hydrating ingredients such as Saccharide Isomerate, Glycerin and Hyaluronic acid.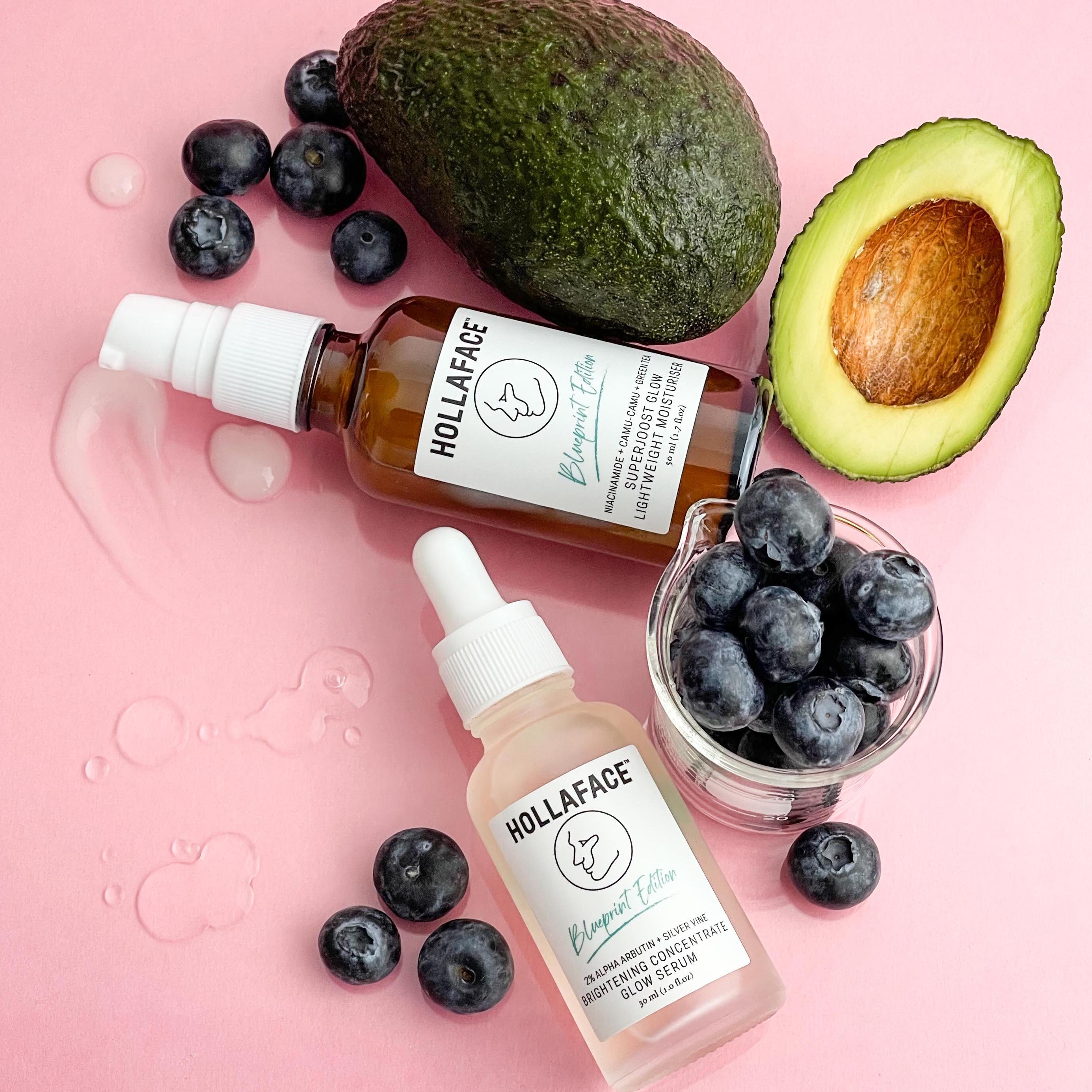 Saccharide Isomerate: a plant-derived humectant to help promote skin's natural production of Hyaluronic acid, research shows it boosts the hyaluronic acid production by up to 66%.
Glycerin: a humectant that helps to trap and keep moisture from the surrounding air.
Hyaluronic Acid: a humectant that boost skin's moisture retention by binding up to 1000 times its own weight in water for lasting hydration.

However, the trick doesn't stop there, this is because often times it is difficult to find the right moisturiser that will not break you out and doesn't feel greasy. When looking for the right moisturiser, it is best to find one that is climate-friendly and non pore-clogging which means to stay away from ingredients such as oils, silicones and fungal acne triggers.
Recommended Product: Hollaface SuperJoost Glow Lightweight Moisturiser (oil-free) - A truly lightweight and non-greasy gel moisturiser that is packed with a powerful blend of Niacinamide, Camu-Camu Berry, Green Tea and over 10 antioxidants. This will not only keep your skin hydrated, but it will also protects your skin from damaging free-radicals and reduce acne-causing bacteria. Its oil and silicone free formulation makes it the perfect climate-friendly moisturiser to keep your skin hydrated without making you feel greasy.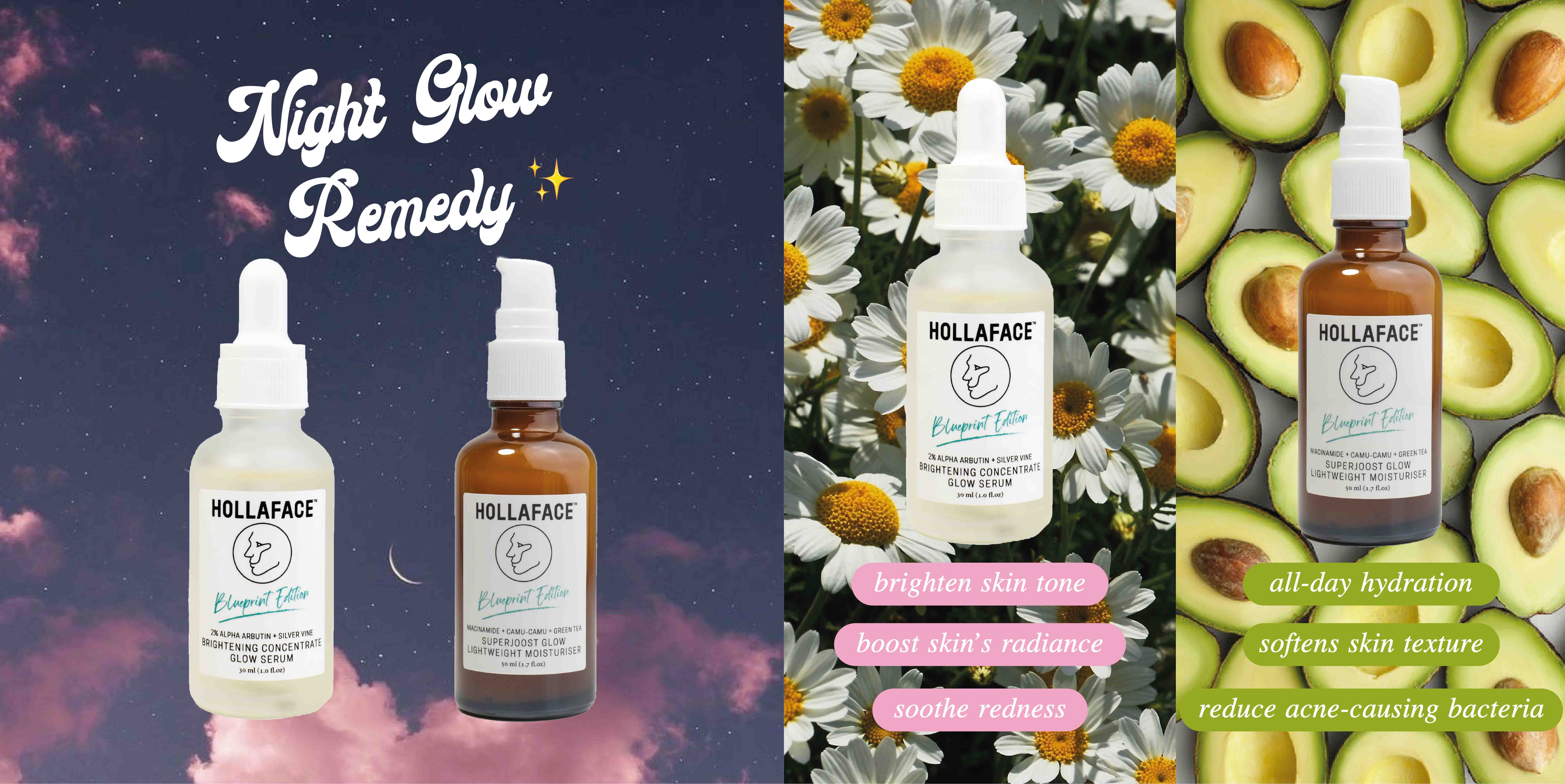 Shop Now: Hollaface Brightening Concentrate Glow Serum
Shop Now: Hollaface Superjoost Glow Lightweight Moisturiser
Shop the Night Glow Remedy Duo now and save RM4.90 + Free Shipping : Hollaface Night Glow Remedy
Here's what our customers are saying about the Night Glow Remedy Duo